Website Personalization
for Credit Unions

Engage website users with personalized content. Get more members and borrowers.
Introducing Persona
Persona is personalization software built just for credit union websites. It adapts website content for individuals based on their interests—on the fly, automagically.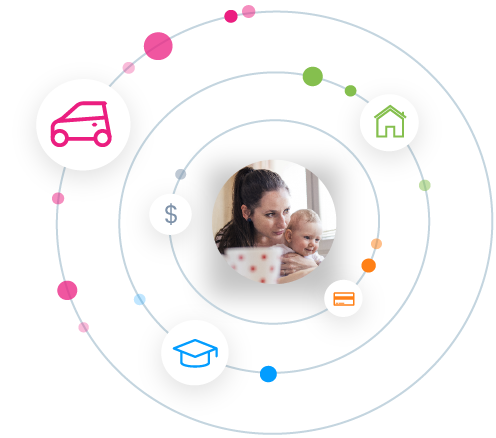 Track behavior to identify interests
Let's say a young mom named Rebecca visits your website. What Rebecca does on your website can reveal her interests. Persona records data like page views, clicks, and form submissions to help you know what Rebecca cares about.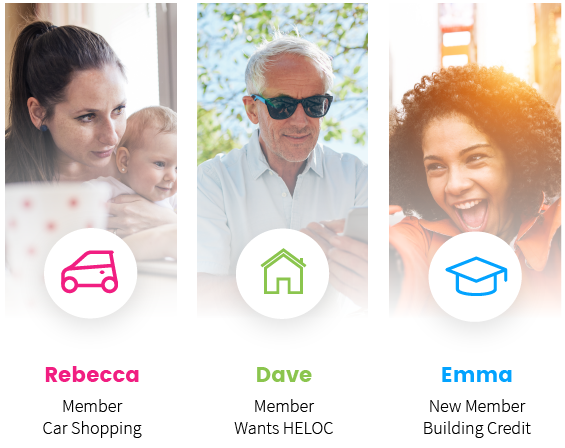 Use behavioral data to build personas
If Rebecca visits the auto loan page, she might want to buy a car. Based on that information, we can assign Rebecca to the "Auto Loan" persona and show her content about auto loans.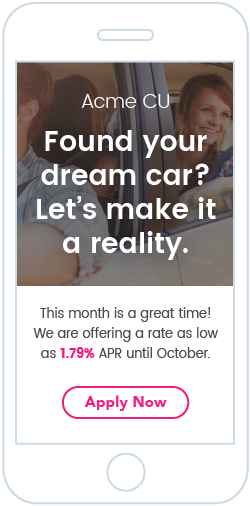 Engage users with personalized content
After identifying Rebecca's interest in auto loans, we can personalize website content for her. Now, when Rebecca visits the homepage, the content adapts to show her an auto loan promotion. She's more likely to interact with a relevant auto loan promotion than with non-personalized content. Personalizing content means Rebecca is more likely to take action and turn into a borrower.

Install Persona & design content for personalizations

Use data about visitors to put them in Persona groups

Engage users with personalized content & grow your CU
Show users content they care about
If you show people content they care about, they are more likely to interact with it. That's why personalization is the next big wave in website technology: because it just makes sense.
"74% of online consumers get frustrated when content (e.g. offers, ads, promotions) appears that has nothing to do with their interests."
– Janrain & Harris Interactive
Get more members and borrowers
Ultimately, personalization helps credit unions get more members and borrowers and makes marketers look like rockstars.
"In-house marketers who are personalizing their Web experiences and who are able to quantify the improvement see, on average, a 19% uplift in sales."
– Monetate & Econsultancy
Experience personalization now
View the demo to experience the future of website technology.
View demo
Learn how to personalize your website
Take your marketing prowess to the elite level. Use personalization technology to make your website smart.
Get a proposal